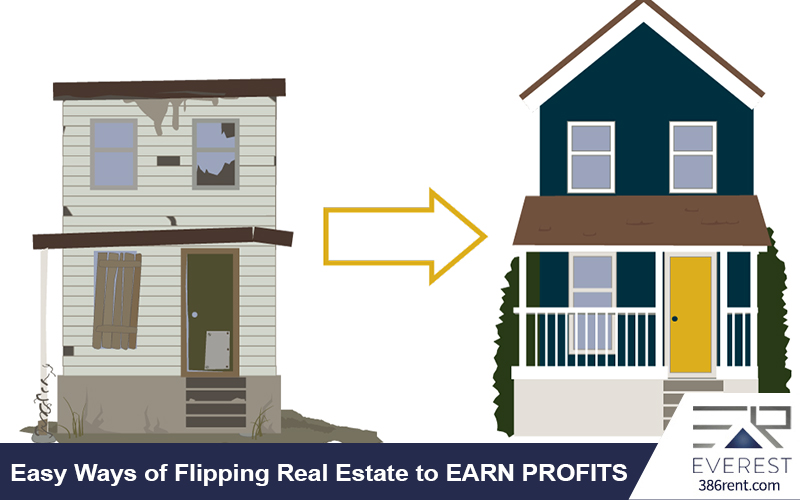 Fixing and flipping to earn from real estate investing has gained huge popularity among investors with TV shows like Flip or Flop and Master of Flip. It is true that an investor can earn attractive profit in short time period through flipping but the entire exercise of buying and renovating is not as simple and easy as it appears on these reality TV shows. However, of you have a strategy and know how to implement it, flipping can still be a very attractive way of earning profits from real estate investing in 2019. Here are some tips to make sure your flipping exercise is smooth and earns you huge profits on your investment.
Work on your credit
You need financing from a lender unless you are a Rockefeller. Your profits from a flipping exercise depend upon how good a mortgage deal you have secured from your lender. For this, you need to have a good credit score to negotiate on the terms of your mortgage. The higher your credit score, the more the amount of mortgage and the lower the interest rates. Therefore, you need to improve your credit before undertaking a flipping exercise. Start paying your bills on time and pay off your old debts to increase your credit score. Also, get discrepancies removed from your credit report.
Save money in your account
In addition to financing from a lender, you will need lots of money to pay not only as down payment but also to carry out all sorts of improvements to make the property desirable for the buyers. If you are not good at correctly estimating these repairs, your flipping exercise can go haywire and beyond the budget you have in your mind.
Ability to spot a good property
This is the most crucial factor affecting the success of a flipping exercise. You must find a good property in a good location at less than its fair market value. Its condition should not be very poor so that you can renovate it with a few cosmetic improvements and make it ready for sale quickly without much effort. Of course, you will not find such an ideal property easily and you must be ready to make a compromise here and there. Your goal should be to find a property at low price that can be sold at a high price after some renovations.
Pay attention to the location
Location is very important if you wish to sell the property quickly at top dollar. There is no point buying a house in a remote location and transforming it through renovation as you will not find many takers for it. What this means is that you should be ready to buy a house in a good location even if it means spending higher amount of money on purchase as it will be easier to find buyers for it after repairs.
Condition of the property
Condition of the house decides how much you can earn through the flipping exercise. If there are no structural defects and the house can be turned sale ready with a few cosmetic improvements, there is nothing better for you as an investor. Elaborate repairs requiring lots of money, time, and effort make the flipping exercise complex and tiring. It is not easy to judge the actual condition of the house when you are new to this business of flipping. Therefore, you should consider taking help of an experienced realtor and appraiser to know the actual worth of the property and its real condition. If the condition is poor, buy the house only if it is available at 50-55% of its fair market value. This is because you will have to spend a lot of money on labor and materials before it is ready for sale again.
If you'd like to talk more about property management, or you need help with Everest Property Management, please contact us at Everest Realty.
Property Management Service Areas
Palm Coast Property Management
Flagler Beach Property Management
Ormond Beach Property Management
St. Augustine Property Management
Daytona Beach Property Management
Port Orange Property Management